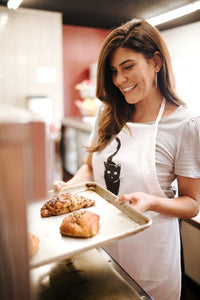 Hey, I'm Natalia!
I fell in love with croissants in the streets of Paris, refused to settle for a life without them after I went vegan, and now I own a bakery so you don't have to either.
I'm also a huge cat lady, believe a salad doesn't count as a vegan option on a menu, find it nearly impossible to walk by a bookstore without going in, and Main Street USA at DisneyWorld is my happy place. If you can relate, we should get brunch sometime! I'll bring the vegan croissants.
Tell me more
Blog
---

There's only one way to host breakfast or brunch during the holidays – keeping it simple. With family in town, guests in the house and all the preparations that go...
Looking for vegan croissants to sell at your coffee shop or restaurant? You've come to the right place! Curious Cat Bakery is a wholesale vegan bakery based out of St....
When you get your vegan croissants in the mail, you have two choices: eat them all at once or practice some self control and save some for enjoying later. Whichever...